Robert Mesrop
Fine Art
---
Home About Paintings Exhibits Contact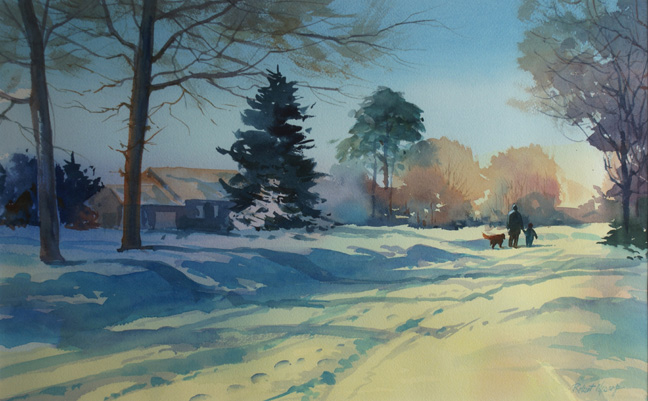 Robert Mesrop has been an artist and painter for over 45 years. He is a Signature Member of the New England Watercolor Society and the Pennsylvania Watercolor Society and is currently a painting and drawing instructor at the Cape Cod Art Association and the Creative Art Center in Chatham Mass, He has also conducted painting workshops in Main and Massachusetts.

Robert's Primary medium is watercolor although he also works in oil and drawing media. Robert is fascinated by changing lights and shadows. He paints to capture these moments in time. The freshness and luminosity of watercolor make it the perfect medium.

He says "it requires discipline, planning and forethought. I try to work through the painting mentally so that I can approach the paper with the spontaneity that is the hallmark of the medium".

Robert received his Bachelor of Professional Arts degree, form the Art Center College of Design in Los Angeles. For 22 years he was an Art Director at J Walter Thompson and at Kenyon and Eckhardt Ad agencies in New York. He is a Master Artist member of the Cape Cod Art Association, and a member of the Creative Art Center, Chatham, the Transparent Watercolor Society and the Salmagundi Club. He exhibits his work at the Fresh Paint Gallery in Yarmouth Port, Ma.

Robert Mesrop's Paintings have been accepted for exhibition in national shows nationwide.
Draw Better Paint Better. Robert Mesrop's 1 1/2 hour DVD offers basic essential instruction for when the painter regardless of medium. It features, understanding perspective, finding the horizon line when there isn't one, and visualizing vanishing points. To purchase E-mail mesroprob@comcast.net. Purchase price is $19.95
cape cod watercolor artists